Center of Our Universe
References needed for Location:
June 11, 2006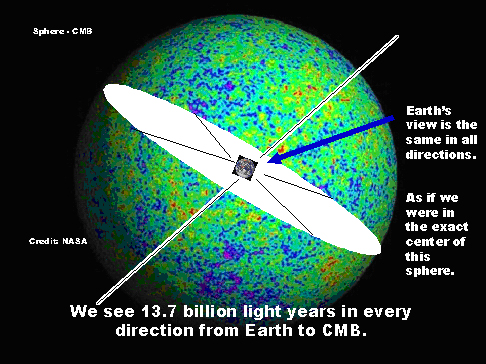 Cosmic Microwave Background Radiation [ CMB ]:
1. Credit NASA See: http://antwrp.gsfc.nasa.gov/apod/ap031231.html
2. "True" notation found at: http://curious.astro.cornell.edu/question.php?number=602
3. First report found at: http://news.bbc.co.uk/2/hi/science/nature/2814947.stm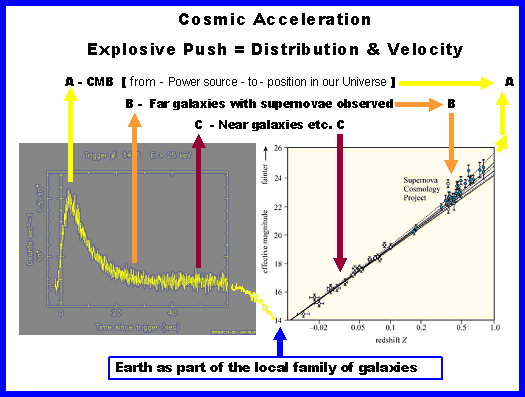 Gamma Ray Burst [ GRB ]:
4. Power Curve Graph of GRB Trigger 1406 above:
5. Supernovae Cosmology Project – Distribution Graph ( See figure 1 above)
http://www.pparc.ac.uk/frontiers/archive/feature.asp?id=5F3&style=feature
6. Explosions in SLOW MOTION see # 6 – 11
Check out –
7. http://www.slowmotion.com.au/
GexCon is an independent consulting company operating in the field of gas and dust explosion safety. Provides the following 4 Explosion Animations from their web site:
The following animations show FLACS simulations of the effect of varying the geometry by locating vessels differently:
8. 3-dimensional flame development simulation.
9. dimensional pressure development simulation.
Dust explosion in vented vessel simulated with FLACS
Quasars
In a double pie wedge view – looking "east and west" from Earth's position in the center of this graph. Credit: The 2QZ Team – Astrophysics Research Institute – Liverpool John Moore University – Australia
12. http://www.2dfquasar.org/wedgeplot.html
The Speed of Earth Through SPACE form NASA:
13. http://antwrp.gsfc.nasa.gov/apod/ap010128.html
Abell's Halo #14 & Einstein's Cross #15 – from APOD:
14. http://antwrp.gsfc.nasa.gov/apod/ap980111.html
15. http://antwrp.gsfc.nasa.gov/apod/ap950711.html
Scientists Create Matter Out of Light:
16. http://leiwen.tripod.com/create_matter.htm
"No apparatus on Earth can compress water (or steel) to half its volume":
17. http://super.colorado.edu/~astr1020/l5body.html
Earth next to the Center of our Universe Views from NASA and 2dF:
18. http://www.sdss.org/news/releases/20010605.edr.img11.html
19. http://www.sdss.org/news/releases/20060515.structure_enlarge.html
20. http://www.atnf.csiro.au/pasa/17_3/colless/paper/node2.html
21. http://antwrp.gsfc.nasa.gov/apod/ap031028.html<
22. http://magnum.anu.edu.au/~TDFgg/Public/Pics/2dFGRS_side_view.gif
Current Cosmology:
23. Sean Carroll, Assistant Professor in Physics at the University of Chicago wrote in a web article for the Cosmo-02 workshop [that I attended] held at the Adler Planetarium: "We know much and we understand nothing." http://www-news.uchicago.edu/releases/02/020806.cosmo-02.shtml
24. That point was reiterated in a February 21, 2003 Chicago Tribune editorial titled "The end of the universe, cont'd." by this: " 'We know much and understand little,' says University of Chicago cosmologist Michael Turner."
Universe not random [ NOT Homogeneous]:
25. "Past surveys have revealed that the large-scale distribution of galaxies in the universe is far from random: it is highly structured over a vast range of scales."
See: http://scitation.aip.org/getabs/servlet/GetabsServlet?prog=normal&id=
RMPHAT000076000004001211000001&idtype=cvips&gifs=yes