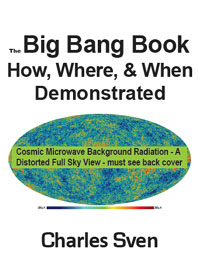 The Big Bang Book:
How, Where, & When
Demonstrated
Copyright © 2015 by Charles Sven Available at Amazon
Amazon preview includes:
Contents, Introduction & Index
Not Included
Inside front cover:
What's the story about the Big Bang?
For one hundred years, starting in 1915, modern cosmology has been trying to explain how our Universe arrived on the scene without success. These cosmological scientists have been hampered by relying on those 20th century, preliminary mathematical assumptions formulated that have never been supported by replicable physics.
Many theories on the Big Bang event have been promoted, but none of these have convinced the scientific community of their validity, let alone the general public.
Well, technology was not similarly hampered by such early math and proceeded to carry on, making new discoveries, shedding new light on our understanding of physics.
Guided by the study habits of the late Richard Feynman who liked to start from scratch, this author came onto the scene at the best time to take advantage of and to tie together so many vital elements discovered after Feynman's death, all obscured by the above assumptions. And there are a sufficient number of these elements that do not line up to the casual observer.
Telescopes, microscopes, atom/nuclear research, and internet reports of these technological achievements give access to anyone to the factors compiled in this book that finally derive an acceptable explanation, rooted in replicable physics of how the Big Bang — Banged.
Last page of introduction – not included in Amazon's preview:
There are extensive scientific comments and sources in the various appendixes included that help our understanding of how, where, & when the Big Bang took place. The many component parts in this analysis, each of which are observed or demonstrated, have been assembled into one very cohesive model answering the most perplexing questions of how, where, & when was the creation of our Universe, complete with replicable, demonstrable physics.
List of parts:
Very complicated forces identified in Ageless Atoms
Power source of atoms and stars described
Age of atoms determined
Atoms viewed using new Scanning Tunneling Microscope
Source of Mathematical Assumptions listed
Comparison of Math and Physics
Laboratory conversion of – energy into matter
Atomic Bomb conversion of – matter into energy
Recognition of Dark Energy filling all of Space
NASA's Deep Field's measurements
Singleton search finds its opposite – the huge CMB
WMAP & Plank's measuring of – the huge CMB
Distribution of Supernovas reviewed
Power of Gamma Ray Bursts – recorded daily
Quasars & Luminous Red Galaxies mapped
Published Studies of ThermoNuclear/Atomic forces
Forces of Nature; On or Off; Detailed
Thermo ElectroMagnetic Pulse, Turbulence, & Chaos
New time frame for a proper growth of galaxies detailed
All Replicable Physics directly based on Observations
This book could have been written by Richard who led the way, in bypassing mathematical assumptions with his 'start from scratch' method of study that can produce the firm foundation so necessary in the development of insight to nature's mysteries. Unfortunately Feynman died in 1988 before half of the vital parts on the above list were discovered.
Most important, along with the availability of personal computers and access to internet reporting of new discoveries, now available to all; I found a key to unlocking the sequence, integrating these parts into one very organized logical tight assembly describing how the Big Bang – Banged.
I hope you enjoy this insight to our Universe.
Charles Sven